Level: 6
Casting time: 1 Action
Components: V, S, M*
Range(area): 150 ft
Attack(save): CON save
Damage(effect): Necrotic
School: Necromancy
Duration: Instantaneous
Circle of Death 5e
From a particular point, a sphere of negative energy will ripple out in a 60 feet radius sphere within range. Each and every creature which is being in that area must make a Constitution saving throw. On a successful and failed save it will take particular damages such as 8d6 necrotic damage on a failed saving throw and half as much damage on a successful one.
Check out our latest post on alarm 5e spell, we hope it will help you a lot to impress your DM (Dungeon Master).
At Higher Levels:
By using the spell slot of 7th level or higher you can cast this spell but the damage will increase by 2d6 for each slot above the 6th level.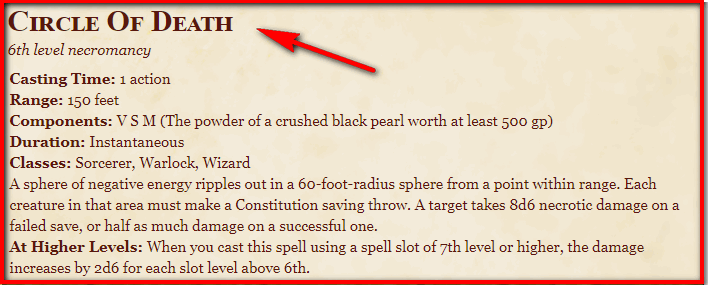 Cleric Spells | Bard Spells | Druid Spells | Paladin Spells | Ranger Spells | Sorcerer Spells | Warlock Spells | Wizard Spells |