Level: 8 (Evocation)
Casting time: 1 Action
Components: V, S, M*
Range(area): 150 ft
Attack(save): CON save
Damage(effect): Radiant
School: Evocation
Duration: Instantaneous
Sunburst 5e
Within a range that you chose on a point, a brilliant sunlight will give a flash in a 60-foot radius centred. But in that light, each and every creature must make a Constitution saving throw. On a failed save and on a  successful save creatures will take different damages such as 12d6 radiant damage and it will be blinded for 1 minute, half as much damage and it will not be blinded by Sunburst 5e spell respectively. On this saving throw undead and oozes have a disadvantage.
Check This:
At the end of each of its turns of the creature will become blind by this spell and make another constitution saving throw. But on a successful save it will no longer be blinded.
Sunburst 5e spell will dispel any kind of darkness in its area and it was created by the spell.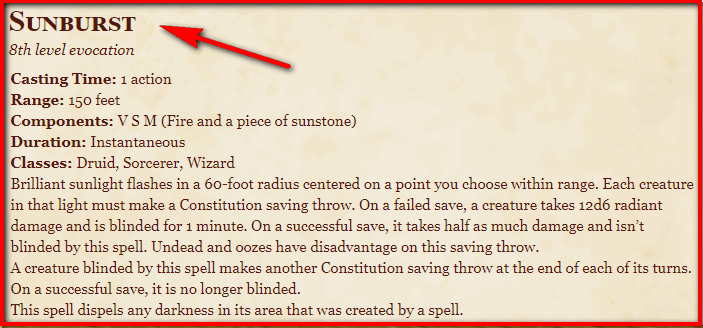 Cleric Spells | Bard Spells | Druid Spells | Paladin Spells | Ranger Spells | Sorcerer Spells | Warlock Spells | Wizard Spells |